PhenoHack: 3D Root scanning with PlantEye
PlantEye is a leading sensor designed to assess  the shoots of crops, but we often get the question if we can also measure roots with this 3D sensor. Normally we say we can not, but this time we got curious and tested it. The results were quite surprising to us and today we would like to present you the results in our new blog category we call the "PhenoHack", presenting uncommon ways to get great plant data.
Semi automated root measurements
Great root data analysis and visualization in HortControl
The experiment
To conduct this simple proof of concept experiment we took the roots from an asparagus plant which was grown in a pot. We removed all the soil and washed the roots. We divided the total root system into several fractions  with a fresh biomass between 0.01 grams until 14 grams. The diameter of the roots varied from 0.55 mm up to 0.86 mm.
We scanned each fraction with the PlantEye F500 and then correlated the PlantEye standard parameter "Digital Biomass (mm3) " with the fresh biomass (g) obtained manually.
To filter the background from the roots we used a blue surface. In HortControl you are able to filter on all our spectral parameters, this way we make sure only the roots itself are used to calculate the digital biomass.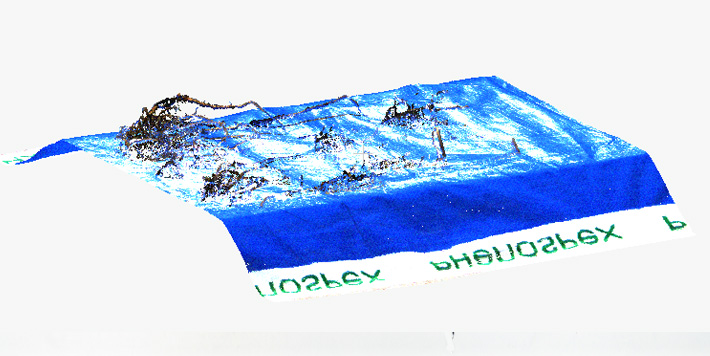 Results
We found a relevant correlation of R2 = 0,92 between the PlantEye standard parameter "digital biomass" and the fresh weight. This result shows that you can actually use products fitted with a PlantEye scanner, like TraitFinder and MicroScan, to assess root biomass.
Obviously root scientists are not only interested in the root biomass.  Parameters like the root area, rooting depth and width or the diameter might be of more interest, but step by step. We will soon repeat this experiment and check how good the PlantEye parameter "3D leaf area" predicts the real root area. We'll keep you posted.
Machine learning
Recently, we also released a great new feature in HortControl which allows the user to use Machine learning. This provides you with even better results by using not only the digital biomass but by combining several plant parameters provided by PlantEye. How does it work? Soon we will be releasing a blog on this! subject Contact us to see how this could fit your process.
Request a meeting
Curious how PlantEye can fit your processes? Schedule a consult meeting with one of our digital phenotyping experts.