DroughtSpotter
Precision irrigation and weight data
DroughtSpotter automates precision irrigation and the collection of high-quality gravimetric data, allowing you to easily assess transpiration. With flexible irrigation scheduling, you get full control over abiotic stress experiments on drought, heat, and salinity.
No need to carry heavy pots to the weigh station or to coordinate weekend watering shifts to ensure reliable data.
Precision irrigation
High watering precision
Manual watering can vary. DroughtSpotter controls the watering amount by monitoring the weight during irrigation and records it in grams.
24/7 Reliable Irrigation
Eliminate the inconsistencies caused by human error and irregular watering events during weekends and holidays.
Irrigation modes
Irrigate any amount at any time. Alternatively, use DroughtSpotter's irrigation modes to maintain multiple soil moisture levels in dry-down, stress, and recovery experiments.
Robust & flexible design
Heavy duty, UV-resistant & weather-proof
DroughtSpotter's stainless steel-coated scales can take a punch and endures any condition your plants are in. With the right care, we can ensure the longevity of your products.
Different scale sizes for all containers
Our scales are available in different sizes. They can weigh and irrigate any type of soil in any type of container up to 250kg.
High quality gravimetric data

Accurate & Accessible data
Pot weight measurements are highly accurate, with a maximum error of 0.023%. Download the raw, aggregated, grouped or filtered data in a CSV or access it via our API.
Frequent & precise measurements
Frequent measurements with a low variability guarantee consistent high-quality parameter calculations between two points of time.
Evapotranspiration and Evapotranspiration Rates
Use DroughtSpotter's data to calculate parameters like (evapo)transpiration rate. Read our method-paper and learn how to calculate drought related parameters here.
Combine sensor data & assess water-saving traits

Normalize transpiration: combine gravimetric, 3D & environmental data
To normalize transpiration rates over biomass or leaf area, or to calculate water use efficiency, you need to combine data from multiple different sensors. Typically, this is a project in itself but we make it easy. Data is centrally stored, accessible by download or API, and consistently formatted with detailed metadata, including timestamps, unit (plant/ plot) id, genotype, and treatment information.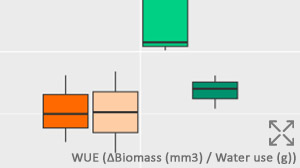 Assess water use efficiency (WUE)
Combine DroughtSpotter data with PlantEye's 3D parameters Ilike leaf area or biomass to calculate parameters like water use efficiency. In this method paper you can learn how.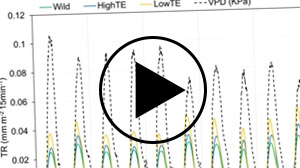 Screening genotypes for transpiration responses to VPD at Icrisat
Discover how Icrisat India accelerates the process of breeding drought-resistant and climate smart crops by combining 3D, gravimetric, and environmental data (paper). Watch the webinar here >
Request a consultation
Tell us about your research needs and we'll show you how DroughtSpotter and other tools can help. Reach out today to book a consultation or request a quote.
Technical Specifications
| | |
| --- | --- |
| Precision Irrigation | Yes (Optional) |
| Dimensions (Per weigh scale) | 18,5 x 15 cm – 52 x 52 cm |
| Maximum load per scale | 5 kg – 250 kg |
| Accuracy | 1.1 g (5 kg scale) – 57.5 g (250 kg scale) |
| Max amount of scales per system | Unlimited |
| Protection class | IP67 |