Comparing PlantEye F600 vs. F500
The F600 sets a new standard and combines ten years of plant-phenotyping experience into one sensor. Once again, there were no compromises ¬– the sensor is designed for one purpose only: assessing plants in the best possible quality to support plant scientists, breeders, and technicians worldwide in their daily phenotyping tasks.
In this blog, we highlight the most important features of the PlantEye F600 and compare them to those of its predecessor, the PlantEye F500:
Higher Resolution, faster & More Accurate
Improved sensitivity to near infrared for earlier detection of plant stress
Better color quality, even under extreme light conditions
New dashboard, for direct interaction with PlantEye
High Quality IP67 casing
Resolution, Speed & Accuracy
PlantEye F600 can generate 8x more 3D points per second. We trade most of this extra resolution for extra travel speed, enabling the F600 to scan 3 times faster than the F500 with 2,7 times the resolution on each plant
The new camera chip increases resolution per scan line from 1408 to 2048 pixels (145%)
FPGA technology increases scan line generation rate from 30hz to 166h (550%)
Increased Accuracy, due to extra resolution on the camera chip (135%)
Increasing the accuracy from an average of 0.4 mm to 0.3 mm, improves the quality and reproducibility of measurements on small plant structures. More resolution on the camera chip reduces the distance between 3D points, thereby creating a natural representation of the plant details.
Some practical examples:
Measure plants or plant organs down to a size of 0,5 mm
Increase throughput (e.g., scan 324 m2/h compared to 108 m2/h)
Capture the growth of seedlings in great detail and reproducibility
Cutting edge technology to further push the boundaries of phenotyping
We achieved this increase in speed and resolution using FPGA technology, which allows us to design our own CPUs and optimize all internal processes. This shows the advantages of engineering an imaging sensor specifically for plants. We can control everything – from the camera chip to plant parameters!
Higher near infrared sensitivity
Near infrared is an important wavelength for computing important plant parameters like NDVI, which quantifies the healthiness of your crop. The camera chip we selected for the F600 is 36% more sensitive to Near Infrared (NIR) and 50% more to the laser (Different range of NIR) than the F500.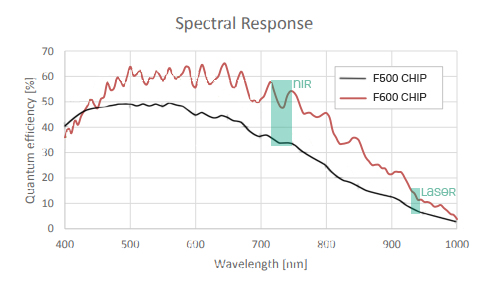 Earlier detection of plant stress
This results in higher NDVI quality calculations, meaning that we can detect plant stress or diseases earlier than with the PlantEye F500 and much earlier than with the human eye.
Sunlight resistance
We've learned from long experience that plant phenotyping sensors must be able to cope with changing lighting conditions or full sunlight exposure, which is why we've worked hard to optimize the color quality of the PlantEye F600, even under extreme conditions.
We achieved this by increasing the LED flash intensity to 1.6 times the intensity of the PlantEye F500. Tests, carried out as part of a joint study with the Jülich Research Center in Germany, determined that the higher flash intensity does not affect your plants. Get the experiment results here.
We also increased the camera shutter speed, which reduces the amount of light projected on the camera chip. In full sunlight conditions, this reduces noise and enhances color quality.
Don't worry about ambient lighting
During our intensive testing, we measured objects with different colors and different angles in total darkness and immediately afterward in full sunlight at noon in July in Central Europe at 1800 µmol m-2 s-1. Under these extreme conditions, the maximum difference in the average HUE value was only 0.9%.
Hello PlantEye!
Finally, PlantEye now has a face, making it much easier to interact with the sensor and understand what's happening. All actions are registered in the console for easy PlantEye API reference! So, usability and troubleshooting are much easier and you can see what PlantEye is doing at any time.
Live stream in 3D
A new feature allows you to retrieve a live stream of 3D information, send it to your robotics, and work with it in real time. A great example of this is in PlantEye dashboard. Here you can access the live feed viewer and watch your plants being digitized in real time!
Clean design, better performance.
The PlantEye F600's elegant design follows our principles of simpler but better! As with the F500, we made no compromises on the quality. We stayed with the solid, watertight aluminum casing with temperature and pressure control, so the F600 is totally dust & waterproof. Unlike the F500, it was even tested to a depth of one meter underwater. The IP67 certificate guarantees it will remain operational in harsh environments – a must for professional plant phenotyping products in use around the clock.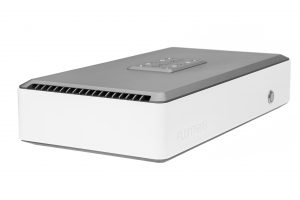 Learn more about the F600? Contact us now!
Our experts are available to discuss how our sensors can benefit your plant phenotyping processes. Just send us a message!