Scroll and be inspired
V
HortControl 3.8 – The Data Access, Quality and Service Release!
Digitalization plays a major role in making agriculture more efficient and sustainable. One major step is a standard in the agriculture industry to access plant data, a fact that's perfectly illustrated by the academic Breeding API (BrAPI) standard for accessing plant data, recently incorporated with all of our tools. For us, the BrAPI is more than just another update: it's our way of introducing this remarkable platform to the industry. Regarding our updates this is far from all. I was tempted to call this a Triple Release as it also includes upgrades for data quality (with six new parameters) and customer service.
1. Data Access (BrAPI)
2. Data Quality (Phena 2.0)
3. Service & System backup (PhenOS)
Breeding API, Automate the data transfer into your workflow.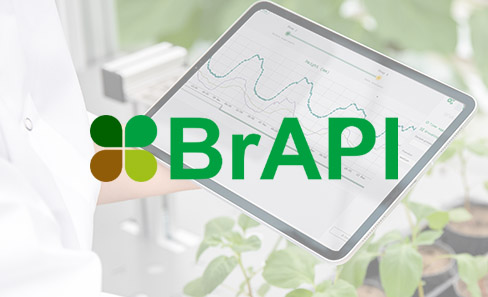 1. Towards industry standards
To fully embrace digital phenotyping, the industry must move towards standards like the BrAPI project, which aims to enable interoperability among plant databases. We work closely with the BrAPI team, following standards defined by the plant research community itself.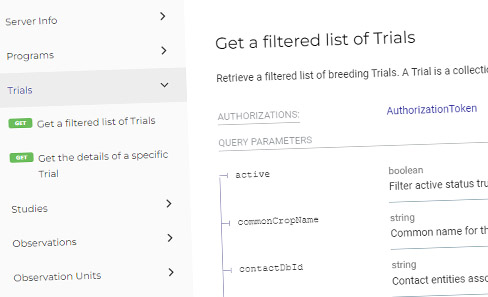 2. Access to all data: plant, experiment, and 3D
BrAPI works according the "RESTful web service" API standard. We've implemented the BrAPI calls (automated data requests to our system) that are compatible with our products and data, and we explain every call in or documentation (pictured on the right). A call is an automated data request to our system.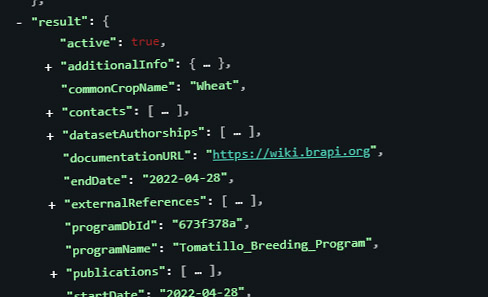 3. Integrate data & Develop tools
We develop great things for and with our clients, but we can't do it for every unique process. That's why we want our users to take things further, develop new tools or integrate our data into the holistic processes of (indoor) agriculture.
Read here all about our BrAPI release >
Phena 2.0, Pushing plant parameter limits
*not yet available for existing system upgrades, ask your contact person for possibilities. Read here why >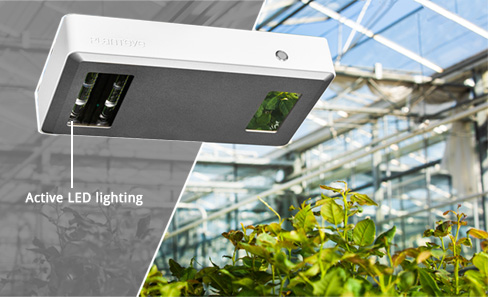 Quality starts with great 3D data
High-quality plant parameters start with high-quality raw sensor data. Last summer, we released the latest version of PlantEye, our 3D multispectral sensor. PlantEye optimizes the way we capture crops and create digital twins.
Check 3D models & Features on our F600 release page >
Phena 2.0, optimized Processing Chain
Phena processes 3D files and calculates plant parameters. We optimized Phena for ten years, but now we've reprogrammed it from scratch to give it more flexibility, which allows us to augment our 3D files with more color information and plant segmentation (video on the left) and create new parameters more easily.
20+ new and improved plant Parameters
We added six new parameters, including "Convex Hull area" and "Voxel Volume." We only release high-quality parameters that bring additional, unique information to your dataset.
See a list of parameters here >
PhenOS, Improves Customer Service
Empower Service
The new Phenospex Operating System makes it much easier for our service team to set up and maintain your system. It also allows more flexibility with sensors, soft and hardware, and future system developments.
Full system backup:
encrypted for greater security
A big benefit of the PhenOS is the Full System Encrypted Backup, which you create in HortControl, download, and store in a safe place. You can also automate the backup process with the REST API for PhenOS
Other improvements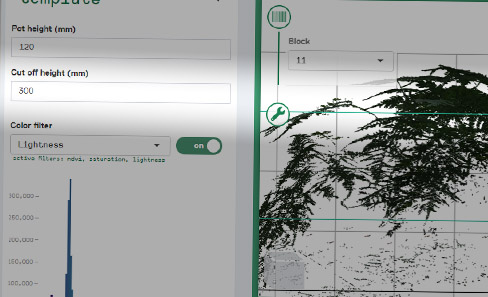 Cut-off height
In the experiment setup phase, our new cut–off height setting defines an upper cut-off limit at plant height. This makes it easier to, in combination with the pot height function, focus on the bottom, middle, or top part of your plant.
Contact us now and learn more!
Our experts are available to demonstrate our tools and talk about how they can enhance your research. Just send us a message.  To plan your upgrade please contact our service team!